Needlepoint Canvases
Needlepoint Alley carries a wide selection of handpainted needlepoint canvases from the nation's top needlepoint designers. Mostly all needlepoint canvases are stitch painted for your stitching pleasure. New needlepoint canvases are arriving in the shop daily, so there's always something new to see.
Victorian Parade of Santas Stocking
B11-AXS872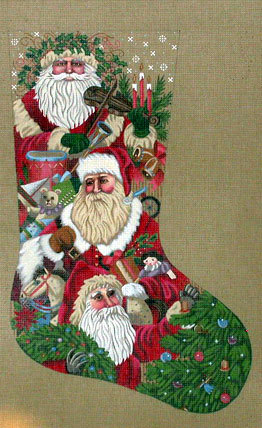 Tapestry Tent Designs Watch for the finished product.
13x22 18 Mesh
Click "view detailed image" to see finished model.
Santa's Beard stitched with a mixture of Bermilana and Gumnut Poppies.Little girl's dress and collar stitched with Purple Petite Very Velvets. The collar is carefully stitched using spider webs. Top Santa's Garland stitched with River Silks. Background stitch behind the name is the brick stitch.